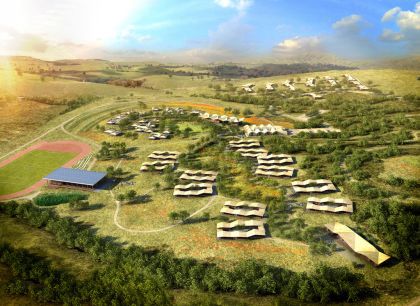 Digital Design of Madonn's school
15m US-$ go a long way in industrialised countries. They go a much, much longer way in Malawi, one of the poorest countries in the world (GDP per capita is 800 US-$). I was therefore shocked to read last week that all of this money goes into a project by Madonna to build an elite (!) academy for girls and even more shocked about the contradictory news on the internet, bouncing back and forth between local project staff embezzling money for luxury cars on the one hand and them suing Madonna for being unlawfully dismissed on the other hand. There have also been rumours that Madonna was being investigated by the FBI and IRS for fraud, which her spokeswoman firmly denies in a statement on the
website of Madonna's high profile charity, Raising Malawi
.
The Guardian wrote:
"Eight charity workers in Malawi are suing Madonna after the collapse of her $15m (£9.4m) academy for girls cost them their jobs. The employees' lawyer said they are taking the US singer to court for unfair dismissal and non-payment of benefits.
The board of Raising Malawi was ousted after failing to start the building of an elite girls' school amid allegations of financial mismanagement, including lavish spending on offices, cars and golf membership.

Madonna, who adopted a boy and a girl from the southern African country, loaned $11m (£6.9m) to the charity and now sits on the board. The charity workers' lawyer, Mzondi Chirambo, said the singer had 14 days to respond to their concerns.

"Their employment was terminated by the trustees of Raising Malawi Academy for Girls ostensibly following the change of plan not to build the school as planned," he told Reuters news agency. "My clients are also being forced to sign a discriminatory termination agreement before they are paid their benefits."
The papers were filed with Malawi's industrial court, which handles employment disputes. Madonna's US representative was not immediately available for comment, but there were reports that the singer is considering filing a counter-suit.

Chirambo said some of the workers he represented were directly connected to the school project, while others taught Kabbalah, a form of Jewish mysticism of which Madonna, 52, is a devotee.

The group includes Dr Anjimile Oponyo, who had been recruited to head the school. An audit by the Global Philanthropy Group, brought in by Madonna to rescue the charity, reportedly said of Oponyo: "Her charisma masks a lack of substantive knowledge of the practical application of educational development, and her weak management skills are a major contributor to the current financial and programmatic chaos."

The school was to take 500 girls and prepare them as female leaders of the future. When news of its demise emerged two months ago, the Malawian government expressed concern and there was anger among villagers who sacrificed their homes to make way for the 47.4-hectare (117-acre) site near the capital, Lilongwe.

It was reported by the New York Times last week that $3.8m (£2.4m) had been spent on the abortive project. The charity's executive director, Philippe van den Bossche, the boyfriend of Madonna's former personal trainer, left in October amid criticism of his management style and cost overruns."
- Posted by the Guardian on 28 March 2011 here.
What I miss in this wild media frenzy are facts: What was Madonna's statement about her vision for the school in the first place? Who are the people involved in the project and which experts in educational development were consulted, if any? What measures were put in place to ensure accountability of the multi-million dollar budget? What about community participation? Was there any consultation or public debate besides coordination with government agencies? In other words: Were Malawians asked if they wanted the school and how
they
wanted it? There appears to be relatively little information on the Raising Malawi website which considering the scale of the project and funds raised, seems to be lacking in press releases or at least field updates. As for the mainstream Western media, nobody seems to have picked up on the corruption scandal revolving around Malawi's Ministry of Education in 2004 that involved the greater part of the ministry's budget going into the pockets of around 100 employees. At least that is what I found on the website of the Institute of Democracy in Africa, a prominent South Africa-based "
independent public interest organisation committed to building sustainable democratic societies in collaboration with African and global partners":
"A press statement issued by the Civil Society Coalition for Quality Basic Education (CSCQBE) observed that the ministry is failing to meet activity targets outlined in policy documents and the Malawi Poverty Reduction Strategy Paper (MPRSP). "The ministry failed to meet the target of training 6000 teachers and recruiting 6000 teachers by only training 4007 and recruiting 5116; it failed to construct 800 teacher's houses; it failed to integrate crosscutting issues of gender and HIV/AIDS and failed to increase teacher salaries; so many failures despite the fact that the ministry got a lion's share from the government budget". A study report released in March 2004 by the University of Malawi pointed out that the ministry of education provides little value for money. The study concluded, amongst other, that the sector spends more than 80% of budgetary allocations on personnel costs and less than 15% on core project activities.

With regard to corruption the general public still awaits the outcome of the K187 million fraud case. The case involves 100 people, including the former secretary of education, Sam Safuli, accused of receiving payment for unfinished school construction as well as receiving inflated payments on poorly built school structures. Apart from this high profile case, the Ministry of Education loses large amounts of money to ghost workers who siphon off millions of kwacha.

Expenditure-related information is difficult to access in the ministry of education. Despite an explicit commitment to transparency and the release of monthly expenditure figures as provided for in the MPRS and Public Financial Management Act, one hardly finds any information on the implementation of activities by the education ministry."
- From the original article here.
A project of this proportion with such little oversight was bound to end in a disaster. Do I think that children should get more than "just" classroom chairs and the most basic teaching materials? Yes. Does that mean that a handful of children should get "spoiled" by a dramatic transformation of their identity and social status through an
elite
academy as development project? Not so sure. Maybe it is the term "elite" and my association of it with such exclusive establishments as Eton that makes me question the ethics of "spoiling" a handful of students in one super school when the money could be more equitably spent. For example to build several schools throughout the country so even children in rural areas can have access to education. Or to alleviate the country's root cause for poverty and long-term demographic challenge: The HIV/AIDS epidemic.
For every 50 000 people in Malawi, there is one doctor. The average life expectancy is 36 years. There were 120 000 children between 0 and 14 years of age infected with HIV and about 1 million between 15-49 are living with HIV (UNAIDS 2009). Clinics are overcrowded and of the ca. 20 medical doctors who graduate each year in Malawi, the majority use their privilege to emigrate for better opportunities in countries like the UK, the US or even Australia. Given the reduced labour force and quick turnover of employees as well as frequent number of sickness days that go hand in hand with an HIV/AIDS epidemic, it is hard to create a diversified economy that can absorb those who manage or make it to a degree and offer incentives to keep them from moving abroad. Therefore, it is not surprising that school curricula are more designed towards offering agricultural and vocational training rather than learning for intelectual achievement, or why enrolment levels in secondary schools are low. If the medical brain drain is a story to go by, I wonder how Raising Malawi's vision to help children become "future leaders of their country" is supposed to realise its goal, as admirably idealistic as it is.
THAT is the real story but who writes about it?
While it is generally commendable of celebrities to give their name to a cause in order to raise awareness and funds, a lot of damage can be done if they try to go it on their own without proper planning. There is after all a reason why people study development at an academic level, constantly evaluate projects and create guidelines for best practices! And guess what, the involvement of celebrities in activism has been given increasing debate in academic discourse as well (see links below).
And by the way, 15m US-$ is 3/5 of the budget Malawi's Ministry of Education had at its disposal in 2004!
Links of interest:
Link #1
: UNICEF on recent achievements in Malawi with a brief video featuring 5-year-old Leviticus and his school
Link #2
: Synopsis and trailer of award-winning documentary
I Am Because We Are
which describes "the journey that Madonna embarks on, exploring the lives of the children who have been orphaned by AIDS, and have suffered more than one can sometimes imagine"
Featuring kids, teachers, Bill Clinton, Desmond Tutu and Jeffrey Sachs.
Link #3
: Documentary on Malawi's Deadly Brain Drain (20min). Really insightful interviews with an overwhelmed Ugandan UNV doctor showing the overcrowded and under-equipped clinic he manages in Malawi. Also interviews with expat Malawi doctors in the UK.
Link #4
: NYT article: "Madonna's charity fails in bid to finance school"
Link #5
: The sketches for Madonna's eco school: photovoltaic roof panels, energy-efficient design. Library, administration building, dining hall, gymnasium, wellness center (!), sports field, 30 classrooms, 12 dormitories and 18 staff houses on 46 hectares (!). Quite smart design actually if the wasn't so over the top.
Link #6
: The Downside of Celebrity Diplomacy: The Neglected Complexity of Development (Dieter 2008 in
Global Governance
)
Link #7
: Angelina, Mia and Bono: Celebrities in International Development (West 2008,
Brookings
Global Development Conference)