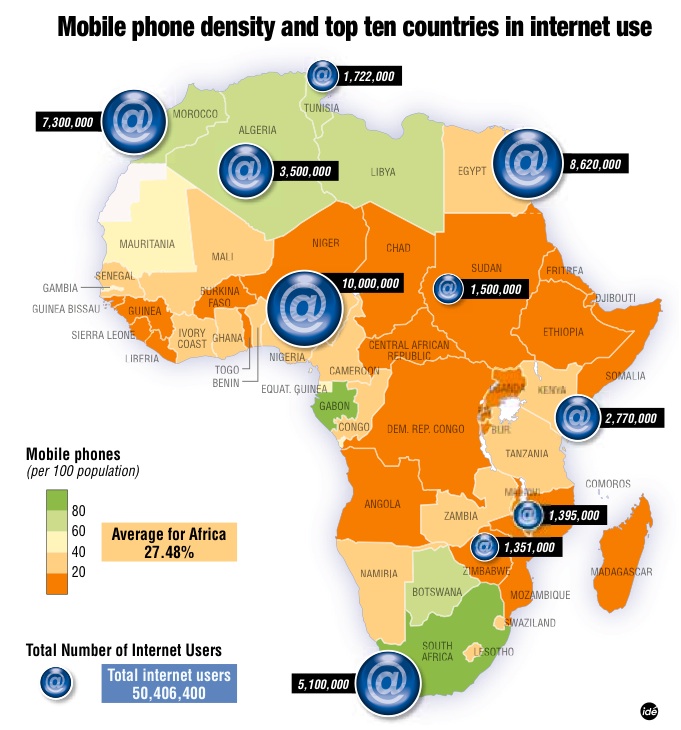 Many people in Europe or North America would never guess that 61% of the BBC's international WAP users came from Nigeria and 19% from South Africa (July 2006, read
here
).
According to the May edition of the Harvard Business Review, Africa's economies are growing rapidly:
"The continent is among the fastest-expanding economic regions today. In fact, Africa and Asia (excluding Japan) were the only continents that grew during the recent global recession. Though Africa's growth rate slowed to 2% in 2009, it bounced back to nearly 5% in 2010, and in 2011 it is likely to touch 5.2%."
I am not sure how much of the continental growth is attributable to the weight of rich oil-exporting countries such as Libya and Nigeria and comparatively strong economies like South Africa and Egypt, or how much of it is due to the interest in creating new incentives for business ventures after the global slow-down but:
"While political troubles, wars, natural disasters, and poor policies could slow Africa down, [...] opportunities are opening in sectors such as retailing, telecommunications, banking, infrastructure-related industries, resource-related businesses, and all along the agricultural value chain. Consider that telecom companies in Africa have added 316 million subscribers - more than the entire U.S. population - since 2000."

McKinsey & Company conducted a microlevel study of consumer markets in African economies and published its findings in June 2010 in their report, "Lions on the move: The progress and potential of African economies". While increasing foreign investment and business links is generally the natural way to increase a country's wealth, I am slightly sceptical of the assimilationist agenda behind "opportunities to shape industry structure" but judge for yourself: You can find the report and accompanying podcasts
here
.
So much for a brief introduction to get everyone on the same page - or shall I say, post? - on the economic context surrounding internet and communication technology in Africa. Having said that, I shall dedicate the rest of this post to feature a few mind-blowing ICT applications and show how they transform the lives of everyday people:
Frontline SMS
Frontline SMS is a globally popular open source software that is designed for and ideally suited to contexts where large numbers of people have access to mobile phones but no internet connection or TV.
It has reached quite some media attention after the Haitian earthquake where it was used to allow people on the ground to share emergency information and the 2009 election in Afghanistan. In both cases it was combined with the crowd/crisis-mapping software,
Ushahidi
. I guess you could say that together, they are remotely like Google Maps updated in realtime by an offline version of Twitter.
© Ushahidi

Frontline SMS allows social entrepreneurs like
Ashoka Fellow
Joseph Sekiku
to reach a very large number of people via their mobile phone with one text message.
Joseph runs a one-man radio station from his bedroom dressing table in rural Tanzania, using little more than a laptop, a small mixer, a microphone, headphones and his mobile phone. Reaching an initial 200 listeners, he now has an audience of 2m (!). FADECO Radio broadcasts agricultural advice, market information and other topics and has recently launched its own community training centre to teach ICT.
Other great examples
how Frontline SMS has a positive impact on people's lives are:
# A safe motherhood project in the Philippines by the
Molave Development Foundation
, an NGO that offers medical advice and support to expectant mothers through text messages in order to reduce maternal and child mortality.
#
Plan International's
project on "SMS reporting and tracking of violence against children in Benin"
# The software's use in Côte d'Ivoire by NGO
RONGEAD
to enhance and secure revenue for small-scale Cashew farmers through access to (world) market prices. Côte d'Ivoire is the second largest exporter of Cashew nuts world-wide.
There also is a video on YouTube by the Asian Development Bank on
how mobile phones save lives in Mongolia
where they help mobile doctors and nurses to discuss patient information, given a rural population that is dispersed over large distances in the mountaineous regions.
Babajob.com - Improving informal job markets
"Babajob.com is a job website and mobile portal dedicated to connecting informal sector workers - cooks, maids, drivers, guards etc and employers to India and eventually worldwide. It's based on the simple idea that everyone deserves to get a better job - even if you can't read English and work in another's home."


- From its homepage.
The Bangalore-based start up company currently has over 60 000 customers and sends out over 1 million job alerts per month - all that with a staff of 16.
In India, 370m people or 92% of the workforce were employed in the informal sector around the year 2000 and contributed to 60% of India's national domestic product (NDP). As the name suggests, employers are able to find staff within their social network who they can trust over a stranger because they are "friends of friends". In a system that is based on word-of-mouth, your success in finding a job or a worker could be greatly improved through increasing the reach of your social network.
That's what Sean Blagsvedt thought, so he quit his job at Microsoft and founded babajob.com, also dubbed as "Village LinkedIn". The widely publicised story was featured by CNN-IBN, the New York Times, CNBC and Business Week.
More detailed information how the babajob.com works in practice, how they reduced commuting time for employees and raised their wages can be found in the About section on the website.
Having been a success in India, the site is now expanding to Indonesia and I could very well imagine it to take off in the Philippines also!
ICT in national policy-making
On a national scale, ICT is also an integral part of concrete development strategies of countries like Rwanda, Kenya and Cameroon.
E-Rwanda: ICT as key to development
"In its Vision 2020 plan, the Government of Rwanda aims to transform the country from a largely agriculture-based economy to a knowledge and information based economy, in an effort to reach middle income status by 2020. The Government has emphasized its intention to use investment in ICT as the key driver for this transition and as a vehicle for improving the delivery of public and private services, particularly in the rural areas."


- From the YouTube description of the video by the World Bank.
See also the World Bank's ICT site
Connecting Africa
to learn more about the e-Rwanda project.
Kenya: Connecting people throughout the nation
In an effort to increase efficiency and transparency and provide better customer service to its citizens, Kenya is expanding its e-governance applications under the direction of its Permanent Secretary for ICT with assistance by the World Bank. You can get a glimpse of the vast improvement by watching the following clip which contrasts the DMV's e-governance experience (the processing time for license plate applications has been reduced from several weeks to one day!) with the analogue records at the Land Registry. If there was a fire, all those titles and deeds would be lost!
Meanwhile in the countryside...
...so-called Rural Internet Kiosks (RIK) are sprouting up like mushrooms, not only in Kenya but also in Rwanda, Nigeria and Zambia. One of the many advantages of these solar-powered stations is that they connect peripheries with the centre and of course, the rest of the world. In quite a few African settings, infrastructure and policy-making has often concentrated around populations in urban centres and capital cities.
Rural Internet Kiosks (RIKs) in Kenya. Click on image for link to YouTube documentary.
"Evidence provided by organisations at the frontline of implementing this project in rural Kenya indicates that internet kiosks have helped farmers to obtain regular updates on weather patterns, sound agronomy and better prices for their produce. As a result, their revenue has expanded dramatically. Business start-ups have also gained enormously. They have exploited potential in digital multi-media advertising to promote their goods and services, hence higher returns."

The expansion of ICTs has also enveloped the Maasai. In a 2min interview with the BBC, Maasai chief Sammy K Tarukas, explains to journalist Jonathan Dimbleby how the use of mobile phones makes it easier for the semi-nomadic, pastoralist tribes to find grazing and drinking places for their cattle, and how they can help out others by sending money across distances.
I found the video on the blog of a Global Communications class at Georgetown University, where you can also
read a bit more
surrounding the Maasai and communication by what I assume was a student who had travelled there.
Sending money via mobile phone is a very popular service offered by mobile phone companies around the world. In Europe too, there are companies like international mobile provider Lebara and Western Union which have started to provide money transfer services via phone and thus facilitate remittance flows to developing countries.
How to send money by phone (there is a better resolution here)
Read more about cash transfers in Kenya and how mobile phones are transforming Kenya in the
article
by BBC Newsnight business correspondent Paul Mason, who travels through the country using a map of its mobile phone networks as his guide.
Cameroon: The ICT University and the annual International Conference for ICT for Africa (ICIA)
The ICIA "... is a conference that brings together stakeholders of the educational and industrial sectors in Africa, with the aim of reflecting on how to transfer, diffuse and adopt the Information and Communication Technologies (ICTs) within the African context [...]" (source:
ICIA website
). It is organised by a collaboration between Cameroon-based NGO
ADCOME
(community empowerment through ICT) and the International Center for Information Technology and Development in Louisiana in the US. Partners include NASA and AIESEC Cameroon.
In reference to my introduction and the economic opportunities ICT offers developing countries, the affiliated ICT university is a crucial player in ICT capacity building in Africa, Asia, Latin America and the Carribean:
"Empowering these [developing] economies to develop the right solutions with contextual and cultural relevance requires institutions to educate and train graduates to meet their contemporary needs. Most developing economies face challenges in establishing and sustaining ICT degree programs, namely, the acute lack of qualified faculty and the exodus of the few graduating talents to the West. Further, some existing degree programs may be considered to be more of an adoption rather than the adaption of content from universities in developed countries, usually North America and Europe.

The ICT-U is "a hybrid of online and onsite certification and graduate degree programs in ICT and business administration. Faculty members represent a global consortium of Universities and Colleges that use ICT and business administration curricula and pedagogies which are internationally focused and locally relevant to developing economies."

Conclusion:
ICTs have not only changed processes and popular culture in industrialised economies but are having an immense impact on the lives of people in developing economies as well. There are so many fascinating projects and applications that deserve more than being crunched together into a single blog post. Yet my aim was to give readers a general introduction into the world of how ICTs enhance social innovation throughout the world.
Leave a comment if you are inspired!