"The real act of discovery is not in finding new lands, but in seeing with new eyes."
The time for this blog post that I have been looking forward to for weeks, even months has finally arrived! I had hoped that when the day came to write it, I would have a(nother) "major milestone" to report, like a "successful" transition from student to working girl. Alas, life is what happens when you had other plans and at this moment, I am writing from a state of professional limbo, doing yet another internship after finishing my degree.
No matter if I have good news or bad news, I am glad to have my blog and p

eople who know me are aware of how much

I thoroughly

enjoy taking the time to draft my blog entries to keep everyone up to date and let them take part in my cultural and personal discoveries while abroad. Writing also happens to be a

relaxing and cathartic

hobby for me. Even after long stressful days at work in KL, I would sit down two or three hours in a cafe and write. I just wish that being (hopefully only temporarily) back in Austria and being immersed in a German-speaking environment again would not affect the spritzy and energetic style exhibited in previous entries as much as it does. I actually confided in friends that I felt as if I had lost my voice ever since I returned to Vienna, kind of like a blogger's block. This is one part of the reason for the

drop

in new posts in the past few months. The other part is that I experienced comparatively less exciting stuff over here.
Although I moved to London five years ago, I remember it as if it was yesterday. Apart from the occasional day trip from my English language summer camps some 15 years before that, London had been pretty much a mystery to me. And yet, I was super excited throughout the flight, sensing that this would be a new and important chapter in my life that would change me forever.
Little did I know that I would not spend two but almost five years in a metropolis I now call a home (I believe a person can have more than one and I hope to add another one eventually). Many urban dwellers will nod in agreement when I describe it as a complicated relationship nurtured by the promise of personal freedom that comes with diversity, and

scarred

by the common frustrations characteristic of urban life which can exacerbate any personal hardship you might experience. Nevertheless, every time I meet someone new and they ask me about my time in London, they can instantly tell by the light in my eyes that it has a very special place in my heart: London is colourful, vibrant, fast and has something to offer to anyone. No matter how obscure your hobby, you will find a group! No matter how eccentric your personality, you will belong! You become a Londoner quicker than you can swipe your Oyster card! The allure and the invigorating challenge of everyday life but also the way a big city shapes your

identity

are hard to convey to people who have not lived in a fast-paced city like London, New York or Paris before. Sadly, I haven't quite figured out yet how to share this part of me with new people I meet.
Although it's been months since I've been back, I think of London almost every day, particularly on murky days or when it is Sunday and I want to buy something from the (closed) store. Or if I catch myself waiting for an Amazon delivery on a Saturday. Or when I get out of the U-Bahn (lit. "underground train") at the very last stop, just missed the connecting bus home and have to wait 30 minutes (!) for the next one. Or when I open a stationery cupboard at work and find someone's Clipper Tea bought on their last business trip to the UK. Or when the U-Bahn crosses the Danube river and I remember how much I always loved strolling down London's Southbank and how stunningly beautiful the city looks from London Bridge in the sunset.
When I look back on the past five years spent both in London and Asia, I consider them the most exciting time of my life: I had an amazing university experience (if you exclude all the troubles I had at the end because of funding), made friends from around the world who all share nostalgic memories of SOAS, discovered a lot of interesting places in London, worked with some of the most inspiring people (refugees and non-refugees alike, fellow interns) and sadly also with the most

dispiriting

, learned how to problem-solve in the hectic daily life in the UK (i.e. the guaranteed breakdowns of EVERYTHING – ATMs, trains, toilets, lifts, printers, ticket machines, Oyster readers, fire curtains, fire alarms, houses, even the electricity supply of entire streets), walked the corridors of social activism, attended some of the most exciting events while in London (i.e. at SOAS, LSE, the Overseas Development Institute, the Houses of Parliament, the Refugee Studies Centre in Oxford. I have also attended a Star Wars convention, the BFI London Film Festival and the hilarious Great Gorilla Run), learned two Southeast Asian languages (Malay and Indonesian) and picked up some of the idiosyncrasies of others, learned to sing in Swahili, Maori, Swedish and Romanian (SOAS World Music Choir), survived the olfactory onslaught of Durians my flatmate stored in our Kuala Lumpur home, flew to a fantastic AIDS congress in Bali, dived with fish bigger than my head (so-called bump-headed parrot fish) in Pulau Perhentian (Malaysia),

swerved on motorcycles through Vietnamese (!) traffic...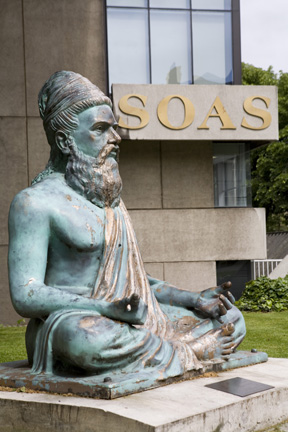 At SOAS alone – and mind you, these are just a selection of events – I had the privilege to attend debates with Jeffrey Sachs (BBC recording here), former Secretary-General of Amnesty International Irene Khan, (AIDS) epidemiologist and journalist Elizabeth Pisani, former Mayor of London Ken Livingstone, Philippine Senator Satur Ocampo, UN Assistant Secretary-General for Economic Development at the UN Department of Economic and Social Affairs and prominent Malaysian economist Jomo Kwame Sundaram aka Jomo KS, Selangor State Assemblyman and Political Secretary to the Chief Minister of Selangor Nik Nazmi Nik Ahmad (Malaysia), exiled Thai-British academic and political activist Giles Ji Ungpakorn (Guardian article here and video of SOAS talk here) and almost, Noam Chomsky (I didn't get into the event because the Centre for International Studies and Diplomacy first limited registration for the event to CISD students and told me so when I emailed them anyway. A week or so later CISD secured a larger venue and opened it to non-CISD students, except I only saw the email when all of the highly desired places had been allocated within two hours. They did stream the event live on the web though). Via SOAS, I also got invited to a reception at the Houses of Parliament with
former Executive Director of UNAIDS and former UN Under-Secretary General Peter Piot.
At the LSE, I attended public lectures by Thai Foreign Minister Noppadon Pattama and by the former deputy PM of Malaysia and current opposition leader Anwar Ibrahim.
Apart from these more public figures, I got to

listen to the experiences

of countless individuals like British Red Cross Delegates in Sudan, MSF doctors and nurses who worked elsewhere in sub-Saharan Africa, an ex-MI5 agent, a UK diplomat in China during the Revolution who later became a BBC journalist and serves as Vice-Chair of the SOAS Governing Body, and a curator of the Asian

Civilisations

Museum in Singapore. I heard several globally established academics elaborate on my fields of interest. Last but definitely not least, I listened to the terrible witness accounts of Cambodian, Rwandan and Burmese survivors of violent conflict who spoke at genocide memorial day events lest anyone forget the atrocities human beings are capable of committing against each other.
Needless to say, moving to London and from there around the globe has dramatically changed the way I perceive the world and by proxy, myself. I have grown so much in the past years and am therefore convinced that moving abroad was the best decision I have ever made. It has expanded my knowledge about the societies, languages and politics of Southeast Asia and also other regions. By posting here, I hope to have increased other people's

global awareness, too.
When I "flicked" through my previous posts in order to relive and reminisce in my adventures, I felt a little embarrassed when re-reading some of my very first posts, kind of what people feel like when revealing their teenager years. Although I itch to archive those posts, I do leave them in as those experiences are a part of me too and because one of the pleasures of reading or keeping a blog is to see how someone changes over time with what they experience.
I am proud to say that I have taken this blog from a simple blog with a default layout to another level by picking a custom template that reflects the identity of the blog (out of dozens if not hundreds of templates on the web I looked at!), adding social media features, creating a QR Tag, enabling a mobile template for smartphones and most recently, experimenting with a thematic mini-series (ICT in development).
I am sure many of you wonder which ones are the most popular posts to date according to the stats. So without further ado, the most popular posts out of

12600

total pageviews since May 2009 are *drum roll*:
To all my friends and unknown visitors who have read and reviewed on my blog in the last five years a big and heartfelt THANK YOU for your continued interest, comments and constructive advice! I invite you to keep visiting and hope you'll feel inspired to start a blog today!
"The problem is that most people focus on their failures rather than their successes. But the truth is that most people have many more successes than failures."