Duly resuming two decades of tradition, I woke up on 1 January 2012 and switched on the TV to tune into the annual New Year's Concert by the Vienna Philharmonic Orchestra. Televised live from the Musikverein into more than 70 countries world-wide, the concert is attended by some 2000 people who are willing to pay up to 940 € a pop in a ticket lottery and thereby ensure a sold out show by end of January twelve (!) months in advance (penny pinchers might be interested in the fact that the cheapest tickets sell for merely 25-350 €!).
Different concert masters from around the world salivate every year over who gets the chance to conduct the concert which traditionally features three essential musical pieces (Donauwalzer, Radetzkymarsch and Wiener Blut) accompanied by the Vienna State Opera ballet and for those that can stomach 1.5 hours of classical music (like me!), an annually changing variety of other classical pieces.
© Alfred Weidinger
So what's the deal with the Vienna Philharmonic? Why is everyone crazed up about it? What makes it so special?
It is considered one of the best orchestras in the world and an important 'brand' in the historicist image Austria exports as classical music capital of the world (as I call it, the 'Hollywood' of classical music, if perhaps less bold) thanks to big names like Mozart, Beethoven, Haydn and various Italian and Hungarian composers from the former Austrian empire - that for a time ruled half of Europe - synergising their talents in Vienna. Just like fine arts students flock to Paris for a formation, young people from around the world seek musical training in Austria's conservatories today.
Given this image, "the Vienna Philharmonic not only commands the highest concert fees of any orchestra - as much as $200 000 a night, and sometimes more, on standing-room-only international tours - it sells more recordings and earns more money for its members than any other orchestra, except perhaps for the Metropolitan Opera orchestra. Its reported annual income amounts to about $15 million after expenses, income divided among the 150 players. In addition, Philharmonic members earn large government salaries for their jobs in the Vienna State Opera orchestra, and a significant minority earn yet a third salary, also government-paid, to teach at the Vienna Music Academy." (MSNBC)
Nevertheless, the prestigious image of the orchestra is not as squeaky-clean as it appears to convey
As three ballet fairies in blue designer dresses are whirled through the air and land half a turn later in a fourth position d

é

mi-pli

é

,

I wonder why it is that such an internationally renown and acclaimed institution as the Vienna Philharmonic Orchestra (hereafter abbreviated as VPO) has virtually no female performers in its ranks. Given the time I spent away from Austria and my relatively consistent disinterest in Austrian current affairs and by proxy, perusing Austrian dailies, I assumed that the more-obvious-than-obvious gender imbalance in the VPO has gone virtually unchallenged in a

(transitioning) p

atriarchal society whose organised women's groups are not lobbying on the same scale as say, their counterparts in the US where they have considerable leverage in national public discourse (partly due to the different democratic system). Being accused by a women's group in the US can create considerable discomfort to the organisation or individual whose image is put into question. In Austria, where political correctness is one of the 'American concepts' Austrians generally prefer to reject by principle, arguments brought forward by women's groups often just evoke a smirk by members of the public.
As for the VPO, a brief internet research confirms that a strong campaign against gender discrimination in the ensemble has been fought for almost a decade now on the cyber front – led prominently by a guy from New Mexico, William Osborne.
"
Part composer, social historian and musicologist, Osborne

[60]

came to the issue of gender bias through long and bitter experience. For many years, he and his wife, Abbie Conant, a classical trombonist, fought sexism in the Munich Philharmonic. Their court battles with that orchestra, following Conant's arbitrary demotion from solo to second trombone, ultimately ended in a precedent-setting legal victory [after she had to have her lung volume measured in a hospital (!) by court order in order to prove that she had the same physical capability as a man to play a wind instrument]." (MSNBC)
"
We would have been powerless without the internet"
Launching an online campaign in the early days of the internet (we are talking 1995, Facebook and Twitter had not even been conceived yet, let alone Windows XP!), he successfully generated debate and support through sending emails, posting in (IRC!) chat rooms and websites and sharing his scientifically-based arguments on the issue of gender bias. I quote,
"
More than three years ago, in 'Art Is Just an Excuse', the first of several seminal essays, Osborne contended that the Vienna Philharmonic's belief in male supremacy was gender bias of the worst sort, rooted in a historical rationale of national identity and cultural purity, and that its exclusionary policy was part of an intolerable racist heritage. [...]
Chief among Osborne's allies were Monique Buzzarte [whose slogan I chose as title for this post], a New York freelance musician and writer who put up a Zap the VPO Web site to encourage and track the protest, influencing the National Organization of Women to get involved
and Varda Ullman Novick, a Los Angeles media researcher and pollster who acted as a traffic catalyst, instigating debate by forwarding e-mail messages to key music list servers." (MSNBC)
By revealing how the VPO is governed and the employment policies surrounding the orchestra, Osborne shed light on the systematic sexist discrimination.
Kurier: "US Womens' Groups Threaten Boycott of the Philharmonic / Massive Pressure on the Orchestra to Take Women Musicians"
Repeatedly threatened with boycots during their concerts abroad and finally giving in to rising international pressure, the first woman admitted into the VPO was harpist Anna Lelkes who by historic vote on 27 February 1997 publicly 'joined' the orchestra conveniently on the same day the VPO flew to the US to play in New York
(in its only other US stop on that tour, the Vienna Philharmonic played three concerts at the Orange County Performing Arts Center in California, where about 150 protestors demonstrated).
I put the 'joined' in apostrophes here because Lelkes had in fact been playing with the orchestra
for 26 years as
a permanent substitute prior to her 'upgrade'. So for nearly three decades, "[s]he earned less pay and her name never appeared in the programs. She was a non-person". Osborne further adds that, "hiring women harpists is nothing new. Male harpists are rare." (MSNBC)
In disgust at Lelke being voted into the VPO, its then-chairman Werner Resel
resigned
and
Austrian conductor Hans Swarowsky
allegedly shouted at her, "Your place is in the kitchen!"
As the Los Angeles Times reported
on the same day of the vote, the orchestra
had declined
on another occasion
to "audition a highly qualified female candidate for solo viola, namely Vienna Academy-trained violist Gertrude Rossbacher who had played for 10 years in the Berlin Philharmonic, where she had been hired by its legendary conductor Herbert von Karajan. The Vienna orchestra filled the solo viola position with a male second violinist, not a regular viola player, from the Vienna State Opera."
At this point, I should probably mention that "The Vienna Philharmonic is the private band of the State Opera Orchestra, which holds the auditions. After three years, a State Opera musician is eligible for the Philharmonic. Thereafter, musicians work for both." (The Independent)
"Three women are already too many. By the time we have twenty percent, the orchestra will be ruined" (statement of a male VPO member in Austrian weekly magazine, Profil).
Of course, the question whether satisfying the notion of human rights would should be pursued for its own sake without regard for the performer's ability and skill is justified. Musicians should be awarded membership to the VPO based on merit, not on gender. I don't believe though that there are not enough equally qualified female musicians who would like to join the orchestra.
In March 2010, Francesca Jackes from the Independent wonders w
hy "[t]here are still no women outside the string section even when women comprise 62 per cent of students at the Viennese University of Music and Performing Arts, and have done for 20 years with better graduation results than men, so why does the VPO hire 20 times more men and why is the firing rate for women higher? (another Austrian orchestra, the Bruckner, has 35 per cent women)."
Is
female
to
male
as
nature
is to
culture
?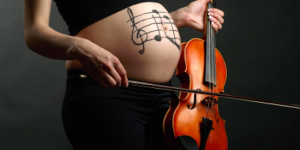 The introduction of re-audition requirements for musicians returning from maternity leave based on the fear that the long absence would threaten the 'artistic continuity' of the VPO is one of the
reported discriminatory employment practices.
What
happened was that in response to the decision by then State Opera director Ioan Holender to automatically employ any female musician who wins an audition, the Philharmonic's leadership and officials of the Austrian government altered leave-of-absence regulations in order to provide a disincentive for maternity leave (as they openly admitted). These regulations state that,
"[i]f a woman takes a maternity leave of less than one year she must reaudition upon her return, but without competition from other candidates. If she is gone more than one year, her position will be advertised and she must compete against other applicants." (Osborne: A difficult birth)
In contrast, so Osborne elaborates, "men have long enjoyed special privileges as members of the orchestra. They are exempted from Austria's compulsory military service. And they are allowed a one time, one year sabbatical with no reaudition requirement. Reauditioning for 'men and women' was deemed necessary only when it became apparent women might enter the orchestra." (ibid)
Osborne
further argues that simple financial considerations dispelled the expressed fear that women would take maternity leave for years as the compensatio
n for maternity leave at the time was a tiny fraction of the 8000 $
a working woman in the orchestra would earn on top of the state opera salary. He also adds that women in prestigious positions tend to have fewer children or none at all as they often consider their career more important than extended maternity leave. Finally, if taken into consideration that in Austria, men can ta
ke paternity leave as w
ell, it becomes obvious that the concern is
unfounded.
"Children can enrich a musician enormously, give her strength, improve her expressive capabilities. One is quite quickly back at one's performance level. It is a question of organization."
- a female musician (cf. Osborne ibid)
Change of tune?
At the point of writing, there are at least five women in the Vienna Philharmonic (one harpists, two first violinists, one violist and one concert mistress). During the entire otherwise flawless 1.5 hour performance, I spotted only one.
On the bright side, I enjoyed watching the Vienna Boys Choir, an almost equally prestigious globetrotting Austrian institution that chimed in for two pieces at the New Year's Concert. Visually more ethnically diverse than the VPO, it comes closer to the kind of contemporary image I would prefer being represented by in the world. I can live with a designated boys' choir. A philharmonic orchestra however is about aspiring harmony among a diverse group of instruments far less influenced by anatomy than vocals and, by not employing qualified women, it somehow is unfaithful to its ideal. There is nothing wrong with exclusive women's orchestras or exclusive men's orchestras but as a national orchestra representing the country as a whole (and not just 49 %), the current practices are a disgrace and should be dispelled by fair auditions, i.e. 'blind' auditions where panel and auditioning person are divided by a screen to obscure the latter's identity (this is already common practice elsewhere in the world).

Then again, if in another ten years from now (and twenty years after the debate was initiated), the orchestra is still almost entirely male and if its violation of EU anti-discrimination legislation will still be endorsed by the Austrian government (which funds the VPO with millions of euros each year), perhaps it will reflect Austrian culture – and intrinsically, gender parity within it – quite accurately.
Sources for further reading:
Kurier, 15 January 1997, "US-Frauenverbände drohen mit Boykott der Philharmoniker / Massiver Druck auf Orchester, Musikerinnen aufzunehmen (
US Womens' Groups Threaten Boycott of the Philharmonic / Massive Pressure on the Orchestra to Take Women Musicians)"
(click HERE)
Kurier: Other related articles published in the six months preceding above article (click HERE)
William Osborne, February 1997, "A difficult birth:
Re-auditioning after maternity leave in the Vienna Philharmonic
" (click HERE)
Los Angeles Times, 27 February 1998, Jan Herman, "Vienna Philharmonic still under fire / A year after naming its first female member, the group continues to face criticism that it's a white male club" (click HERE)
Austrian Parliament, 7 March 2007, Reply by Federal Chancellor Alfred Gusenbauer to the enquiry by Green MP Wolfgang Zinggl (click HERE)
Telegraph, 12 September 2009, Michael White, "Women in the Vienna Philharmonic! Shows how sensitive Austrians are these days..." (click HERE)
The
Independent, 4 March 2010, Francesca Jackes, "All white on the night: Why does the world-famous Vienna Philharmonic feature so few women and ethnic minorities?"
(click HERE)
Vienna Philharmonic Orchestra's website (click HERE)
Zap the VPO:
Old website (click HERE)